The past twelve months have been innovative for Exberry with a very strong growth in business and partnerships for the company, and also rapid change within the industry. There is a lot to celebrate and champion when looking back so we thought we'd share some achievements for the industry and for Exberry and share a short outlook for the future.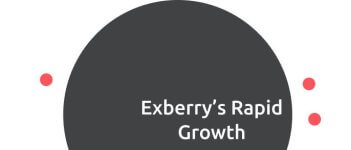 In 2021, we saw some rapid growth for Exberry, fueled by the rapid change we are seeing in our industry right now!
The barrier to entry for new markets and exchanges has never been lower when powered by Exberry. Entrepreneurs creating new and innovative asset classes and new ways of investing are taking full advantage of our offering tightly coupled with technology advances in Cloud and DLT, be they incumbents evolving their business or new initiatives. This fuels an incredible growth for Exberry and we have seen only the beginning in a very successful 2021.
New innovative asset classes are emerging as the best performing assets, way ahead of commodities and stocks and that is making the new exchanges on offer grow exponentially, almost popping up fast like mushrooms and we are proud to say we are supporting them every step of the way.

Some of the world capital markets have or are going into the cloud and it almost feels like it's a race! One that made the news recently was the announcement and big news that came from Nasdaq! They announced their partnership with AWS where they will host their infrastructure on the cloud. Some others who joined the party this year include Google, with their 1bn investment in CME Group. They plan to move futures and options markets to the cloud over a 10-year period. This is big news coming from the ecosystem, especially since this is something we have been doing for the last 3 years and championing our clients and partners to enable for themselves. This all in all validates what we are all doing and working hard to make the new normal.
It seems that everyone is now realising that the cloud is key to capital markets working well. We've been busy working on this for 3 years already, so it's great to see others joining in and making cloud a priority.

The world of exchanges and marketplaces is growing exponentially and changing drastically. Infrastructure for these markets is outdated and can't provide an appropriate solution to the growing, changing requirements behind this rapid change.
A key area for innovation is the clearing, settlement and custody of financial assets, and here distributed ledger technology (DLT) is at the forefront and plays a key role.
DLT enables key post trade processes including fund transfers, clearing of bonds and derivatives, and settlement of securities. This new landscape fits us like a glove, as our technology is agnostic, easily integrated with post trade systems and supports multiple blockchains.
Our technology helped us secure a very valuable partnership in this space. We made the announcement in November of this year that we were awarded a grant to build a primary issuance and secondary trading platform on top of Algorand. Since we support multiple blockchains, this was a match and partnership that we value and know it will do great things for both sides. There are many more opportunities to come this coming year, and can't wait to see what 2022 brings everyone.

New exchanges are the future and we are playing a key role in this change. Bonds, futures, derivatives, Commodities, Insurance Linked Securities (ILS), Non-fungible Tokens (NFT's), Cryptos and more have been implemented on our technology in the past year and 2021 is just the start. We've broken the glass ceiling of linking legacy technology in order to "tradify" new appetites and new players. Those who didn't have the large capital as well as the bigger traditional players who didn't previously have the technology capabilities can start now with our easy and seamless entry point. There are no limits for any players anymore. Not only that, but new assets that can't be traded elsewhere are being traded by using our technology and solutions with ease.

You no longer need billions to have state of the art technology systems as Exberry has enabled the ability to support the most traditional markets in the world, and at same time supporting young entrepreneurs to build their market dreams with lower prices and easy technology.

We have built a partnership ecosystem with major industry leaders and that has allowed us to offer wider services for our clients and to build new products to support them all. 
2021 saw some big partnerships develop and go live. At the beginning of the year, Exberry and Digital Asset teamed up with Baymarkets to add clearing to their end-to-end digital asset exchange platform.  For the first time, With the integration of Baymarkets Clara Clearing System, market participants can register, trade and clear traditional, alternative and digital assets on one integrated platform.  
In this exciting year, we also launched with ProMEX in Hong Kong. ProMEX delivers an end to end digital experience in physical commodity trading. ProMEX selected Exberry as core matching engine for its digital marketplace for physical commodities. This exciting bit of news came just in time for the new year to come round and for us to make waves within this ecosystem and where we were able to showcase our "Marketplace as a Service".  
We also announced another exciting partnership with Arcadier, where we partnered up to deliver deep-tech trading infrastructure for the next generation of marketplaces.
We have closed many other partnerships in several different areas we operate in, from surveillance services like our partnership with Eventus, to a collaboration with an Index service called Moorgate Benchmarks and we have also partnered with a system integrator services company called Velmie, and many more.
We have had many new and exciting things happen in our space, and for Exberry in particular.  On behalf of the entire Exberry team, we wanted to wish you merry christmas and a healthy and happy new year! Cheers to 2022 and what it will bring. We have some big news coming in 2022 and a lot more to share very soon!